Until recently, (before I discovered eBay), I believed only a few Bentley scale models existed. I had seen a few depicted by Dinky and Corgi toys and the Franklin Mint models too, but nothing that really caught my imagination.
I have worked at Bentley Motors, for just over eight years in the Styling and Design department as an Exterior Stylist. My reference to the glorious past had always been from a combination of books, classic car shows and the meeting the owners of old and new cars at the factory and motor shows. Over time you find that you get to know different models, their differences and features from memory. Or so you think.
---
It was my brother-in-law who first introduced me to eBay. He told me that I would be able to find almost anything at all. The first time I logged on, I just typed Bentley as a trial and started to search through four or so pages of Bentley collectibles, brochures and even real cars. I noticed there were a few models and narrowed down my search to just toys. I found a very nice model of a 1952 R-type Continental. I printed it off and took it to work the next day to show one of my colleagues who collects model cars. I was told that it was a white-metal model, (and at a good price). I was impressed with it, because, unlike the Dinky car I had of the same, this one had all the proper detail and the shape was just right with the wheel spats, the bright-ware and so on. So I bid for it on eBay and a week or so later had it in my hands.
A few days after finding the R-type Continental, I found another Bentley on auction. This was a model of the famous Embiricos Bentley, an aerodynamic design that no doubt influenced the styling of the R-type Continental. The description mentioned an unmade kit with superb detail. Having never seen this model before and realising that it would be an important addition in a Bentley collection, I used the "Buy-Now" option and had it shipped over from Canada.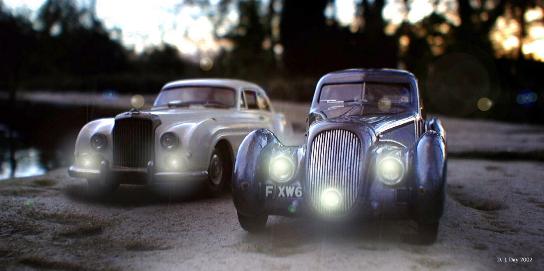 R-type & Embiricos
Although initially daunted by the level of detail, I started to build the interior of the model at home, even painting in the creases in the leather! Whilst during my lunchtimes at work, my colleague primed, painted, flattened, re-painted and lacquered the body to a superb high gloss finish. Assembly went comparatively well, the only heart stopper being cutting out the tiny photo-etched parts only for them to spring off onto the floor! However the finished result of the model is superb, this model is still amazing to view. Everyone is stunned by the details and quality of finish.

This was the model that had me hooked. I decided to build up a collection of my favourite Bentleys with the finest models I could find in 43rd scale. I would in effect create a "Bentley blood-line" from the early cars through to the most modern.
| | |
| --- | --- |
| One of my all time favourites was the one-off 'Blue Train' Speed-Six. Built for Woolf Barnato, it famously raced against the Blue Train to arrive back in London before the train had reached Calais. I bought a basic Brumm model of this car, (before realising that Western-Models do a nice white-metal version which is now out of production), but have since re-worked it for a more detailed result. | |
I added photo-etched wheels, (supplied by MM model cars), then repainted it properly with leather bodywork picked out in satin finish paint, with gloss for the metal panels. I repainted the interior from photos I had of the car whilst at Pebble Beach Concours d'elegance. I used some leftover transfers and pewter pieces from my Embiricos model to raise the level of detail again.
Since then, I have bought a Ban Seng model of the Bentley Hunaudiere, (a show car built after VW bought the company), as well as Western-Models 1936 Bentley Mulliner bodied saloon and the later R-type saloon version. I've now re-housed all my models in BBR boxes to maintain consistency when on display.

I hope to add other models to the collection over time. I have just finished building a SMTS Bentley Azure, which I bought in kit form. This white metal model was modified to become a "Mulliner" version consisting of the same flaired wheel arches and sports bumpers that can be specified on the real car, (I did the modifications in car body filler). I have also depicted the interior in two-tone sandstone coloured leather. The wheels and radiator shell have been highly polished just as is available on the real car.

I am already thinking of my next challenge, and that might be to modify and chop the SMTS Continental R model into the short wheelbase Continental T or the later and very rare T440. The Continental T was the first big project I worked on at Bentley in 1995 and is a car close to my heart.

However the most satisfying thing about collecting these models, is that through their detail and accuracy they are a fantastic source of reference. It's like having a garage full of historical cars but better because you can compare the different models and look round them without having to leave your desk. Well, actually I suppose the real cars would be better, but I would have to be a multi-millionaire to be able to achieve that!

Darren J. Day - Senior Exterior Stylist - Bentley Motors, Crewe.