Talbot Lago T26 GS 1950 Le Mans winner
Manufacturer: Southern Cross Miniatures
Talbot Lago Le Mans Winner 1950
Kit number: K002
This model was built from the kit by Southern Cross Miniatures. Although a very well engineered kit it was a challenge at times, mostly due to the delicate nature of some of the parts. These parts though, are what make this kit so realistic. The first picture I saw of this model was drawn to the fender brackets! I had not seen anything so "real" in this scale before.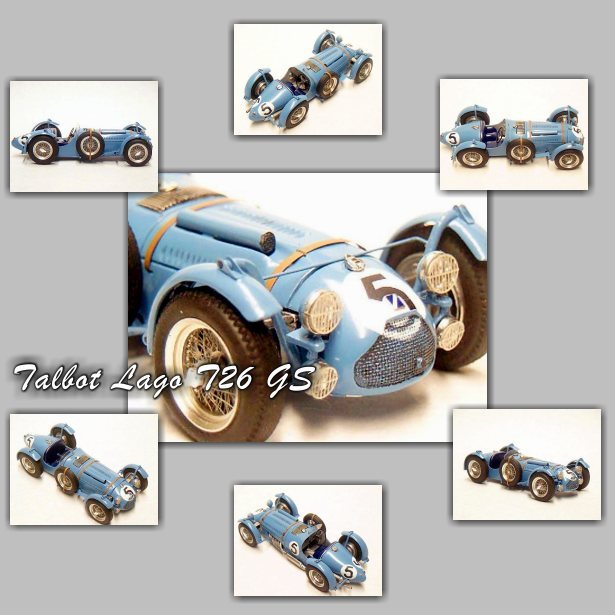 The kit consists of a resin body, seat, and headlight buckets. The chassis, fenders, brakes, front suspension, oil cooler, exhaust, and all filler caps are white metal. Photo etched parts include the bonnet and spare tire straps, windshield frame, mirror, dashboard, steering wheel, pre-selector box, headlight screens, and those wonderful fender brackets.
The instructions say to paint the wheels silver. I elected to use clear flat lacquer. I like the effect it has on bright photo etched wires. The body color was custom mixed using Gulf blue, Tyrell blue and black to match the color chip supplied with the kit. It isn't an exact match, but pretty close. Usually the body will get wet sanded and polished but the fenders are just too fragile. I'm guessing most cars from 1950 didn't have "glass smooth" paint jobs anyway! The interior was painted with Rustoleum Royal blue satin enamel. The white bead on the back of the seat is a pinstripe decal.

The dash instrument faces and pre-selector indicators are beautifully printed on clear film. With enough magnification, you can actually read them!
Of the twenty hours it took to build this kit, about eighteen were very enjoyable. The other two were spent straightening the right front fender after dropping it!